Royer Designs' unique process lends itself to each homeowner's specific style and taste. As such, our portfolio of kitchen design includes modern, contemporary and traditional-style kitchens as diverse as the families who grow and gather in them.
From the Elegant Traditional project, Royer Designs focused on a cohesive palette of stained and antiqued cabinetry, with European details in the accent tilework, decorative wood range and elegant hardware.
From the Warm Modern project, the aim for this multi-purpose space was to highlight the modern style while keeping the function focused on the needs of a busy family. Vintage fixtures and sleek furniture and cabinetry allow the space a sense of flow and keep clutter at bay.
From the New Home Architectural project, Royer Designs selected the tile, cabinetry, flooring and fixtures for this new build kitchen in a home priced at over $1 million. The home has a contemporary feel, with a few classic touches complemented by the openness and flow of the space. It's easy for new buyers to see themselves at home here.
From the Calm Contemporary project,the abundance of storage and appliances make this kitchen space a workhorse for a family that loves to cook. The rough-edged stone slab island topper is a nice juxtaposition of texture against the sleek counter-tops and flush cabinetry.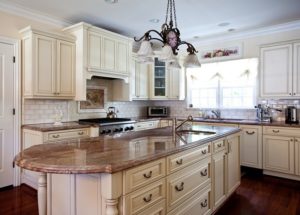 From the French Chateau project, this dream kitchen instantly evokes a sense of Provence. Layered, thick stone counter-tops are accented with turned-leg detail on the island and antique-edged subway tile. Gorgeous molding and inset detail on the cabinets lend an air of elegance and patina to the space.